Could gene-editing make plants tastier and healthier?
echo get_avatar( get_the_author_meta('user_email'), $size = '80'); ?>
Imagine one day eating Doritos, Cheetos, or your favourite crips or candy bar and being guilt-free from sugar, fat, and the other not so healthy aspects of junk food.  Thanks to gene editing and food science, that future might not be too far off.
Our guest today is Jim Blome, CEO of Calyxt, a plant-based technology company that is working on developing plants to not only be healthier for consumers, but also healthier for the planet.
Through gene-editing, scientists at Calyxt are able to create plants with healthier oil levels, completely remove trans fats, and create crops with higher yields.
In our interview today, Jim will explain the work going on at Calyxt, how gene-editing differs from genetic modification (GMOs), where their technology fits in with the organic vs traditional agriculture debate, and how they are able to remove unhealthy fats from foods.
About Farm Traveler podcast
Trevor here with the Farm Traveler Podcast. Curious as to how your food is made and how it gets to your table? Check out Farm Traveler and you'll learn just that!
Listen to more Farm Traveler episodes. and follow Farm Traveler on Twitter.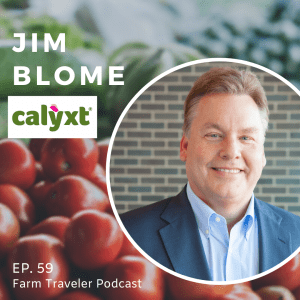 Thumbnail Photo by chuttersnap on Unsplash