Food produced in Britain is of an incredibly high standard and farmers across Britain are now experiencing their full peak time harvesting crops that will ultimately fill the supermarket shelves with delicious food that we all enjoy three times a day.
My name is Eleanor Gilbert AKA 'The Berkshire Farm Girl' and I am an accidental 6th generation family farmer (at Rookery Farm in Newbury, Berkshire). We will be harvesting 1800 tonnes of wheat this summer which will make over 3 million loaves of bread for Hovis as well as barley for beer, oil seed rape for cooking oil, oats for porridge and rye for Ryvita. I hope we will be finished in August. However if this crazy weather keeps up we could end up carrying on right through September and October.
I will then head back to university at Harper Adams in Shropshire to complete my final year in ag and crop management. I will also be launching my first farming venture alone on the farm with my pick your own pumpkin patch. I will be selling these from the field so I hope you can follow me on this journey. I think I will call it 'Berkshires Best Pumpkins'.
This is an experiment for me, and I am hoping they will be ready for pick you own straight from the field with great photo opportunities.
If they grow(!), then they will be ready just in time for Newbury and District Agricultural Society ploughing match (21st October 2023) which will be held at Rookery Farms (RG18 9EA) and ready for Halloween 28th and 29th October.
Whilst we may traditionally use pumpkins to carve, they are also edible and can be used for soups, stews, and cakes. Some farmers feed the seeds to their chickens and the flesh of the pumpkin to their pigs so there is often very little waste.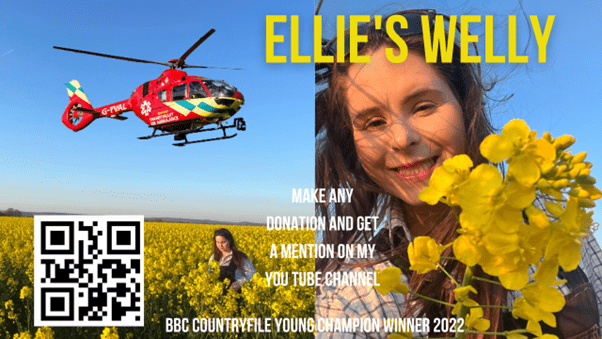 I will be documenting my harvest through my YouTube channel https://www.youtube.com/channel/UC5iT_clrcI12_3x3eKoQS7w where, like some other farmers across the country, I connect my videos via donations to the air ambulance.  I cover the Thames Valley Air Ambulance. Olly Harrison and Joe Seals cover the North Air Ambulances.  These are great charities that cover everyone but they are really important for farmers who often work in remote and difficult locations.
The biggest support you can give your hard working famers is to Buy British and allow us to keep taking care of our Great British Countryside. Enjoy your dinner today and remember that most farmers don't eat at home or off a plate for the entire summer.
Written by Eleanor Gilbert
Image Credit: Eleanor Gilbert
……………………………
Eleanor Gilbert is a 6th generation farmer from near Newbury in Berkshire. Known as 'The Berkshire Farm Girl' on social media Eleanor regularly shows the day to day of her life on the farm. In 2022 she was named BBC Countryfile Young Countryside Champion at the BBC's Food and Farming Awards.