Cereal, episode 2: Why our wheat monoculture won't save us
echo get_avatar( get_the_author_meta('user_email'), $size = '80'); ?>
Wheat covers an estimated 218 million hectares of the planet – more than any other food crop. But most bread we eat today is made using modern varieties of wheat that were bred for yield at the expense of everything else.
These seeds produce a monoculture of plants that can yield a lot in a good year, but are reliant on chemical inputs and extremely vulnerable in the face of climatic extremes.
Most shockingly international legislation dictates that trading any wheat seeds that don't fit the modern wheat breeding criteria is essentially illegal.
We hear from a top scientist about new findings showing we need to dramatically rethink the seeds we sow if we want to feed the planet in years to come, re-focusing on diversity and quality.
But there's hope – people all over the UK who are finding ways around these oppressive laws, building up a seedbank that supports diversity, low-input ecological farming and nutritious grains to feed people.
This is just the beginning. The radical changes that bread has undergone are revealing of wider truths about our relationships with food, farmers, the land, environment, and each other.
This if the second episode in a 6 part series, Cereal, uncovering the hidden truths behind our bread and the people who are building a new grains movement.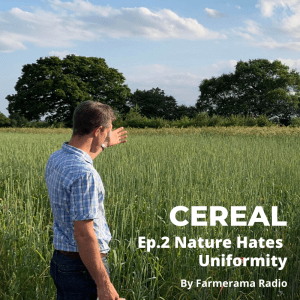 Cereal is written and produced by Katie Revell and made possible by the generous support of the Roddick Foundation.
Featured in this episode:
Andrew Whitley, Bread Matters, Chairman of Scotland the Bread, currently based at Bowhouse Fife
Rupert Dunn, Torth y Tir, community supported peasant bakery, Wales
John Letts, Heritage Harvest
Martin Wolfe, Wakelyn's Agroforestry (previously Professor of Plant Pathology at Cambridge)
Mark Lea, Green Acres Farm, Shropshire
Kimberley Bell, Small Food Bakery, Nottingham
Josiah Meldrum, Hodmedods