Crop dusters – meet the couple combining aviation and farming
echo get_avatar( get_the_author_meta('user_email'), $size = '80'); ?>
I'm still fascinated with airplanes and when I found out today's guests combine both aviation AND agriculture, I just had to have them on. Tyson and Cally are the two adventurous people behind Ag Aviation Adventures.
Through social media outlets like YouTube and Instagram, Tyson and Cally document the behind the scenes workings of crop dusting, their daily schedule, and also educate consumers on how spraying affects crops.
Their videos are super informative and take viewers inside the cockpit with Tyson as he talks about various agriculture topics during his spraying route.
This is a great conversation with Tyson and Cally and I highly suggest you check out their YouTube and other content.
https://www.youtube.com/channel/UCjq3CguZmrEwJZp6GTpv3ng
https://www.instagram.com/agaviationadventures/?hl=en
https://www.youtube.com/channel/UClmynuIDq3K_rvmftL3cf6A
About Farm Traveler podcast
Trevor here with the Farm Traveler Podcast. Curious as to how your food is made and how it gets to your table? Check out Farm Traveler and you'll learn just that!
Listen to more Farm Traveler episodes. and follow Farm Traveler on Twitter.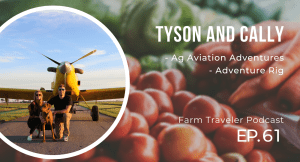 Above, Cally and Tyson.
Thumbnail image (on home page) is not of Tyson and Cally's plane, but is by nightowl from Pixabay.