Farming operates in cycles and it is important that James finds time in the spring once the warmer weather arrives to apply fertiliser to ensure a continuous cycle of grass growth. 
What is fertiliser?
Fertiliser is a natural or chemical substance which is applied to soil or land.
It is applied to all non-organic crops and different chemicals are used depending on the specific crops requirements, geographical location and soil type.
Why do we apply it?
Fertiliser is applied to soil or land to replace nutrients which have been lost through leaching or removed during harvest to resort and increase the fertility.
Applying fertiliser to our grass fields in the spring gives the grass a boost and ensures a continuous grass growth. Grass is required to support the ewes increased nutrient intake requirements post-lambing, carry the increased stocking density and allow a silage/hay crop to be cut.
How do we apply it?
Last year James paid a local contractor to spread his fertiliser. However, by purchasing his own second hand spreader, James hopes to save costs and allow greater flexibility with his application dates.
The hopper holds fertiliser above horizontal spinning disks. When the shutters are open the fins attached to the disks direct the fertiliser out and away from the spreader – spanning up to 27 metres.
Application rates depend on the soil requirements and desired crop i.e there is a difference between grasses for grazing and grass for silage or hay. The required kilos per hectare is calculated for each field before application and the spreader can be calibrated to apply an even coverage.
What is a 'Nitrate Vulnerable Zone'?
This is term used in the EU. Excess nitrates that aren't absorbed by plants can harm the environment and humans by leaching from soils into groundwater and running off the land into waterways.
In order to tackle this hazard the European Commission's Nitrates Directive 91/676/EEC aims prevent pollution to the water environment through good farming practices.
Areas where nitrate concentrations in water exceed, or are likely to exceed, the levels set out in the Directive are designated as NVZs. Mandatory rules are enforced to reduce nitrate loss from agricultural land and to protect human health and resources from water pollution. This is another example of farmers protect and sustaining the environment they live and work in.
The land at Pitnacree is not situated within a Nitrate Vulnerable Zone, however, good farming practices are still employed to avoid water pollution.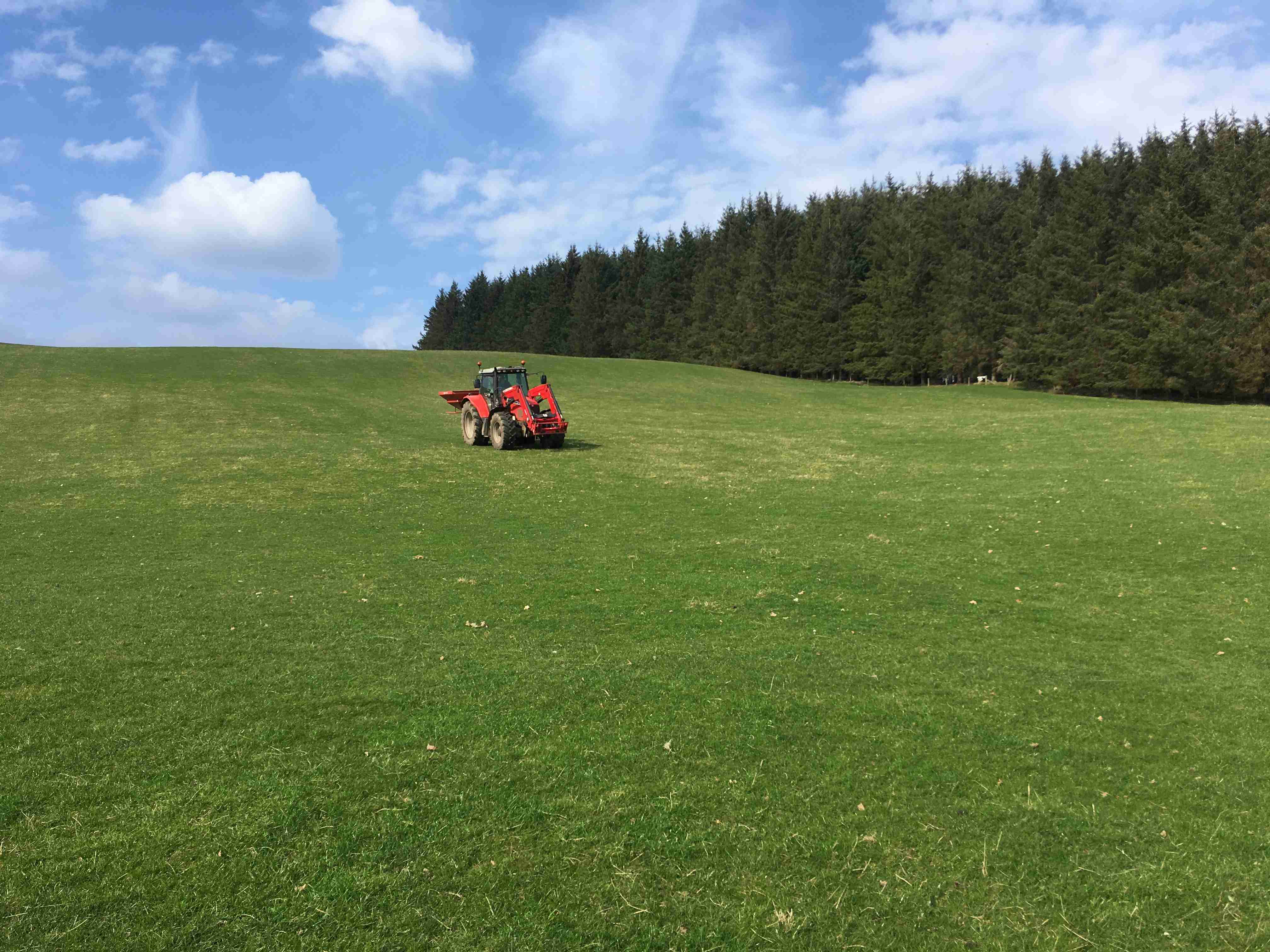 There are currently 5 NVZs in Scotland:
Lower Nithsdale
Lothian and Borders
Strathmore and Fife (including Finavon)
Moray, Aberdeenshire/Banff and Buchan
Stranraer Lowlands
Maps showing the extent of these NVZs can be founds on the Scottish Government website: https://www.gov.scot/publications/nitrate-vulnerable-zones-maps/
Are there any rules for application?
Fertiliser must not be applied during the closed periods. This only applies to land within an NVZ.
On grassland
On tillage land
Sandy or shallow soils
1st September –
31st December
1st August –
31st December
All other soils
15th October –
31st January
1st October –
31st January
When applying chemical sprays the operator is legally required to hold their PA1 and PA2 certification.
James & Isla