Pumpkins are not just for carving spooky faces and placing on doorsteps during Halloween, they are a versatile and nutritious seasonal food that can be transformed into a wide variety of delicious dishes. Surprisingly millions of pumpkins go to waste each year, so in this blog, we will explore various pumpkin recipes to help you make the most of this autumn favourite while shedding light on the issue of pumpkin food waste.
How pumpkins are harvested
Check out this video we received from Email at Foxes Farm Produce all about their pumpkin harvest and see how it is a team effort to get those pumpkins on the supermarket shelves for us all to enjoy! 
What a waste
In the UK there are an estimated 18,000 tonnes of pumpkins that go to waste each Halloween – the horror! But why does so much pumpkin end up in our bins? It might be because most of us often don't realise the potential of pumpkins beyond creatively carving them. So to prevent this annual food waste, let's dive into six ways to cook delicious meals using pumpkins, these are thanks to BBC Good Food who have an additional 15 other ways to enjoy pumpkin, including hummus!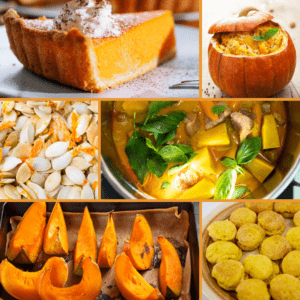 Pumpkin Curry: A spicy twist, pumpkin curry is a delightful way to infuse your meal with exotic flavours. Simmer chunks of pumpkin in a fragrant curry sauce and serve with rice or bread.
Sweet Pumpkin Pie: Satisfy your sweet tooth with Pumpkin pie, ideally served warm. You could also whip up pumpkin bread, or make pumpkin-spiced cookies – our sweet tooth will thank you!
 Roasted Pumpkin: Roasting pumpkin is one of the most popular methods. Toss pumpkin chunks in olive oil, add your favourite spices (try cinnamon, nutmeg, or paprika), and roast until they caramelise. This makes a tasty side dish or a delicious addition to salads.
Pumpkin Seeds: Don't throw away the seeds! Clean and roast them with salt and spices for a crunchy and nutritious snack: Pumpkin seeds are rich in protein and healthy fats, so get roasting!
Stuffed Pumpkin: For an impressive dish, try stuffing a whole pumpkin with grains, vegetables and your favourite seasonings – this makes a stunning centrepiece at any meal!
Pumpkin Scones: These lightly spiced scones make a great autumnal afternoon tea treat. Serve them warm and generously slathered in butter or soft cheese, delicious! Kids can get involved with baking them, too.
And let's remember about all the other delicious vegetables that can also be carved, as wonderfully demonstrated by our team here at Eat Farm Now 🙂
Share your recipes! 
At Eat Farm Now, we're committed to celebrating the joys of eating seasonally and fighting food waste. So we invite you to join us and share your favourite pumpkin recipes with us and we'll feature them on our website Let's make a difference, one pumpkin at a time. Share your pumpkin recipes with us today by signing up as a Contributor and sending them to us here: https://eatfarmnow.com/register/